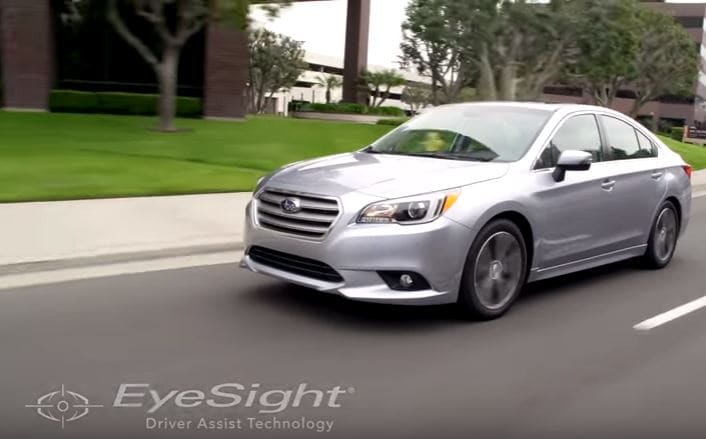 Subaru Eyesight Tech Will Help You Stay Safe
Safety is an important consideration for most car shoppers. And Subaru, with its cutting-edge technology, is a recognized leader in the category of safety technology. In 2019, one of its notable features is called EyeSight. As you might guess from the name, this technology can "see" what's coming on the road and respond accordingly. This includes constantly monitoring traffic to the front, sides, and rear. Equipped with EyeSight technology, the Subaru family of vehicles earns the prestigious distinction as an IIHS top safety pick of the year. With this technology onboard, you can even reduce the risk of rear-end crashes with injuries by up to 85%.
Subaru's EyeSight technology has many notable features wrapped up into one convenient package. The EyeSight system is operated through dual-color cameras that are located near the rearview mirror. These discrete cameras are adept at constantly monitoring the road for changes. To help avoid accidents in the front, the EyeSight system has adaptive cruise control, which helps the driver maintain a safe following distance from the car in front. While the driver can manually control the distance set between the Subaru and the car in front, the adaptive cruise control uses a radar-operated tracking system to maintain that distance. The EyeSight package also has pre-collision braking, which can deploy the brakes to bring the vehicle to a stop. This technology, when tested by the IIHS, was found to reduce the risk of injury to pedestrians by up to 35%. Another frontal accident avoidance feature of EyeSight is throttle management, which reduces power to engine if it appears that you're going to hit an object in your path.
In addition to helping you avoid accidents in your forward path of travel, the EyeSight system protects you from accidents on the sides, too. EyeSight uses sensors to detect your vehicle's position in the lane. If it senses that the car is drifting out of the lane without you using the turn signal, it sends audible warning so that you don't hit cars to the side or leave the road. Along with lane departure warning, EyeSight has a feature called lane-keep assist. This feature uses sensors to help keep the car from leaving the lane in the first place. If the sensors detect that your vehicle is moving to the side when there are other vehicles around, it corrects the car's trajectory to make it more centered and stable on the road. EyeSight can be paired with Subaru's other safety technology, including LED lights and automatic high beams, to ensure optimal safety regardless of where you are traveling. Subaru's cars are also constructed with a high-strength steel body that offers more protection to occupants in case the car crashes. An advanced airbag system is also part of Subaru's safety toolbox.
If you are looking for a safe car, a Subaru equipped with EyeSight is a good bet. To date, Subaru has sold more than one million vehicles with this technology, and it looks to sell many more. With accident-avoidance technology that reduces the risk of frontal, side, and rear collisions, EyeSight can take your level of driving confidence to new heights. To learn more about EyeSight or to see if it's offered on your favorite Subaru, just give our dealership a call or ask online. A member of our courteous, professional staff will gladly answer your questions.