What is Subaru STARLINK Multimedia?
The world of social media and online entertainment bursts into the line of vehicles in 2019 with the updated and greatly improved STARLINK Multimedia system. What's going on with this new multimedia suite? Well, for one thing, you've got all of your online connectivity in one place, with tools to help you enjoy the world, navigate it, and stay safe during the trip. Just to give you a brief rundown of STARLINK features, here are a few that you're going to love.
Safety features
Thanks to STARLINK collision notifications, medical responders and appropriate agencies will learn of any crash immediately upon the STARLINK system detecting it. You've also got other great features like Stolen Vehicle Recovery and Enhanced Roadside Assistance. It's the perfect connectivity for long journeys.
Endless Entertainment
When you're on the go, you need your apps, your music, and your friends. Thanks to STARLINK, you'll always have them via voice-activated commands that put you in touch with the music on your devices, the apps that help you find the things you love, and of course, navigation features that help you get around your world on the go. Have a favorite tune? Let STARLINK know! Need directions? STARLINK will get you there. It's the perfect combination of features to help you get the most out of your Subaru experience.
Voice-Activated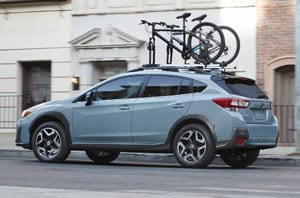 Voice-activated features are critical for safety on the road. You'll never have to take your eyes off the road thanks to voice commands and audible feedback as you're safely driving and keeping your attention focused on the road. STARLINK offers all of this to you and hooks up directly with your mobile device to keep you connected at all times.
Does the 2019 Crosstrek Have Subaru Starlink Multimedia?
A lot of people are asking if the Crosstrek is going to have STARLINK media available. And we're happy to report that yes! You will get STARLINK Multimedia with the 2019 Crosstrek. It was just recently announced that STARLINK is on-board as the Subaru in-house multimedia/connectivity program of choice, and there have been a lot of great new added features on it this year. The Crosstrek Hybrid will continue to announce new features for the 2019 year, and we're very excited to hear about what else Subaru has in mind for their remarkable Hybrid that promises to be one of the biggest releases in all of 2019. For now, though, you at least know that STARLINK is on-board for the '19 Crosstrek. That's a big win for technology, for Subaru, and for you.
Learn More Today
STARLINK isn't the only thing that the new Crosstrek will have to offer, so make sure you stop in and ask us any questions you might have about the upcoming 2019 Subaru Crosstrek. It's a hybrid vehicle for the modern era, a true accomplishment thanks to things like STARLINK, and a vehicle that you should keep your eye on until 2019 hits and you can go out and buy it. Our sales team is always standing by ready to take any of your questions, and of course you can always write to us or call and ask for a quote on the Crosstrek. And if you'd like to know anything more about STARLINK, just give us a call or contact us via form. We'd love to share the good news with you.