Investing in a Subaru as your current vehicle was a wise decision. With the winter months coming up, you're about to find out how practical of a vehicle manufacturer this is. You have some great safety features that will keep you safe while on the slick roads. Since it is not yet winter, now is the time to prepare your Subaru for the cold months ahead. Not only will this ensure that you will be safe, but you are also protecting your investment. Here is how you can prepare your Subaru for the winter.
Routine Oil Change
Your vehicle needs an oil change every six months to a year, depending on the amount that you use your vehicle and the type of oil used. If you are coming up on the point of needing an oil change, have this done before the winter starts up. The cold temperatures can put a lot of wear and tear on your engine. Make sure that your vehicle has what it needs to stay protected. If you need assistance, we can advise you on the best type of oil to use in your vehicle. Subaru has recommendations for each of their models regarding what the best oil is.
Tire Maintenance
You'll want to check the integrity of your tires before the snow flies. Tread wear should be even across all four tires. You should also have a good deal of tread left. Don't forget, your tires are what will keep your safe and secure on the road while you are driving. Investing in new tires can be expensive. This is an important investment when it comes to your overall safety and the safety of others. Routinely check the air pressure in your tires as well. Not having enough air in your tires will prevent a proper grip on the road.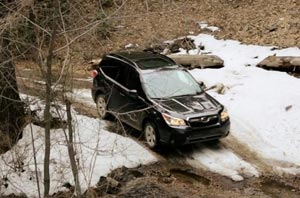 Windshield Wipers
This is a very affordable item to replace if necessary. Your wiper blades will keep your windshield clear and dry while you drive. If you have an old pair of windshield wipers on your vehicle, you will have trouble seeing because of streaks and ice. Inspect your current set for cracks or tears. Your new set should be specifically designed for winter weather. Make sure that you always have an adequate amount of windshield wiper fluid in your vehicle. This helps keep your windshield clean and free of ice.
Lights
Make sure your headlights are clean and pointed at the right angle. You need to be able to see the road clearly in the snow if you want to stay safe. You can invest in brighter bulbs if you find driving at night to be a challenge. Headlights also come in different 'shades' of white. A much whiter bulb can also make a big difference in how well you can see the road. If you aren't sure how to service your headlights yourself, you can bring your vehicle in to our service center for assistance.
If you need any assistance with your winter Subaru vehicle maintenance, stop down to Van Subaru today. We can help get your vehicle ready for the long winter ahead. You made a big investment when you purchased a Subaru. Make sure to take the appropriate steps towards protecting this investment. There are a number of points on your vehicle that should be routinely inspected. The months leading up to the winter are the best time to have your vehicle looked at. In addition to these tips, we'll also look at things like your defrost function, heating system and the underside of your vehicle.