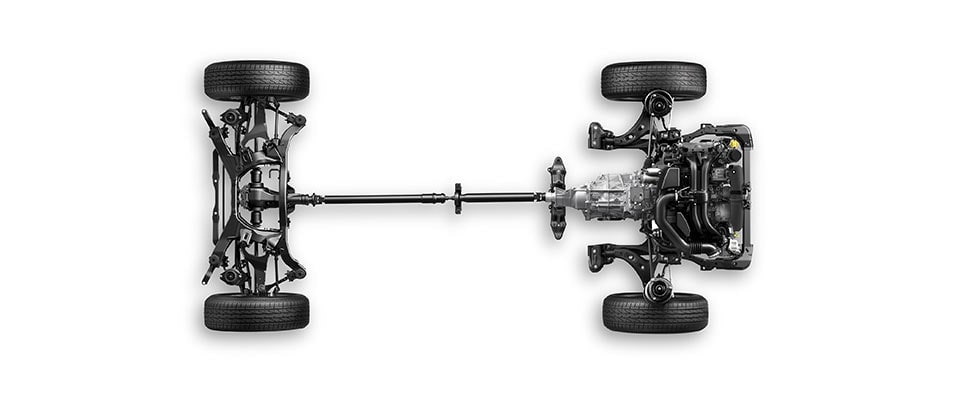 Standard in most Subaru models, the Symmetrical All-Wheel Drive delivers superb traction under various driving conditions. From the Legacy sedan to the Forester crossover SUV, this advanced AWD is available at no extra cost.
The Engineering Details of Subaru's AWD System
Subaru's Symmetrical AWD system has evolved tremendously in terms of all-weather performance. Throughout the generations, this proprietary drivetrain has received minor updates to deliver industry-leading performance on and off the road. The Symmetrical AWD continuously monitors the spin rates of all four wheels in real-time. If slippage is detected in one or more wheels, torque flow is immediately reduced for optimum stability. For example, a wheel that slips on a puddle or ice patch won't receive any torque until the tires make contact with a dry surface.
Subaru's sophisticated electronic modules reduce any significant delays in the output of torque. Of course, the signature drivetrain is also synchronized with other critical mechanical hardware, such as a continuously variable transmission system. Over the years, Subaru's CVT system has carried the proprietary Lineartronic technology. The driver is never limited to a fixed number of gear ratios in this highly responsive transmission. If necessary, the Lineartronic CVT will shift the entire gearbox into low ratios.
Towing and off-road driving dictate the types of gear sequences that should be engaged in the transmission. The Symmetrical AWD is also more stable than traditional AWD systems because of the proprietary BOXER engine. Engineered by Subaru more than four decades ago, this exclusive powertrain contributes to a nearly perfect weight distribution under the hood. Therefore, a Subaru vehicle is unlikely to tilt, swerve, or lean during a sudden stop. The horizontally opposed engine block prevents the front wheels from spinning out of control in certain driving situations.
In recent years, Subaru has also added the exclusive X-MODE to select trims. This performance-enhancing technology is smoothly integrated into the Symmetrical AWD. For example, the X-MODE controls the spin in each wheel based on available traction. This proprietary technology instantly disengages one or more wheels on a slippery surface. Additionally, the Vehicle Dynamics Control is a standard technology that has supplemented the AWD for generations.
The VDC is primarily responsible for monitoring secondary parameters relating to all-weather handling, such as G-forces and yaw rates. Most Subaru models also have the Hill Descent Control, which keeps the wheels rolling at a steady pace on a downward grade.
Visit our Subaru auto dealership and test drive a model that's available with the Symmetrical AWD.