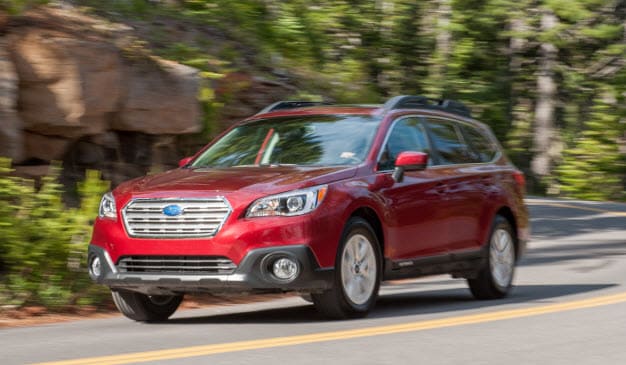 Kelley Blue Book has released their list of the 16 Best Family Cars of 2016 and we're honored to reveal the 2016 Subaru Outback made the final cut. Offering ample passenger and cargo space, exceptional off-road performance and a wide variety of features that benefit today's families, the latest Outback model is a perfect choice for this year's coveted list.
Kelley Blue Book evaluated a total of 24 different cars over the course of two weeks to determine which ones would be suitable for their 16 Best Family Car of 2016 list. During the duration of the evaluations, KBB looked at each car's passenger and cargo space, comfort, safety and convenience, and quickly discovered the 2016 Outback met their expectations.
Featuring 104 cu. ft. of cabin space, 35.5 cu. ft. of cargo room behind the rear seats and 73.3 cu. ft. of space with the rear seats folded down, the Subaru Outback is a prime choice for buyers. It also comes with optional EyeSight Driver Assist Technology, which helped earn it a 2016 Top Safety Pick+ award from the Insurance Institute for Highway Safety. Additionally, the wagon is able to achieve optimal performance thanks to its available Boxer engines, which can churn out either 175 horsepower or 256 horsepower, respectively.
Available at Van Subaru, the 2016 Subaru Outback is just the right vehicle for you and your family.