Where Can I Trade In My Car Near Kansas City?
If getting the new vehicle you've always wanted while cutting down on its cost sounds good, we can offer assistance. Perhaps you've been eagerly awaiting the all-new Outback, which has the highest ground clearance yet, or the sporty Crosstrek that has the capacity to power through tough terrain. Through our trade-in program, you might finally have the chance to own these vehicles. Best of all, it can happen in three easy steps.
In order to begin the process of trading in your old car for a new one, you will first need to determine how much your current car is worth. Then, you can choose from one of many new or used cars to use as the trade-in exchange. And finally, you will sign the paperwork to seal the deal. If you come in with the title to your current car in hand, you can even drive away with your new acquisition on the same day.
The added advantage of our trade-in program is that it is possible to get a new car even if you still have payments outstanding on your current loan. Sometimes, people can pay off the balance of their current loan using the funds provided through their earnings from the trade-in. But even if that doesn't fully cover the cost of the outstanding loan, you can simply roll over what's left of the loan balance into the payment for your new car. Even though the trade-in payment might not cover the cost of the loan completely, it still helps you chip away at the residual amount of loan payments that you have left.
How Much Is My Car Worth?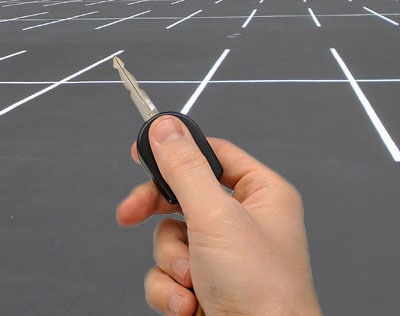 Once you decide that you want to trade in your current car, the next step is figuring out how much your car is worth. A car's value is determined by many factors that will affect the car's projected trade-in value, which means that you should put in the most current and precise information about your car as possible to get an accurate quote for your car's estimated trade-in value.
Although the factors used to determine your car's worth are complex, we offer a transparent, user-friendly online calculator to help you figure out your car's value. Simply visit our website where you can use this free tool to get a fast approximation of your car's worth. Once you have that information, feel free to browse our inventory online or stop by in person. As a dealership that strives for customer satisfaction, we are also available to answer any questions you have about determining your car's value.
You can even ask if we know what a car of a similar profile to yours goes for as an average trade-in figure.
What Can I Trade My Car In For?
After you've gotten your car's quote, you can look forward to the best part of all, which is selecting a new vehicle. We have an expansive inventory of new and pre-owned Subaru vehicles to help our customers find a perfect match. Maybe a sporty Impreza has always spoken to you and now is finally your chance to own one. Alternatively, maybe you like the all-new looks of the Forester and think it would be a perfect next car. If you see a car in stock that you want to test drive, don't hesitate to call, inquire online, or stop by for a test drive. While our trade-in program sticks around, our cars go fast! If you don't see your ideal Subaru at the moment, check back soon for a refreshed inventory.