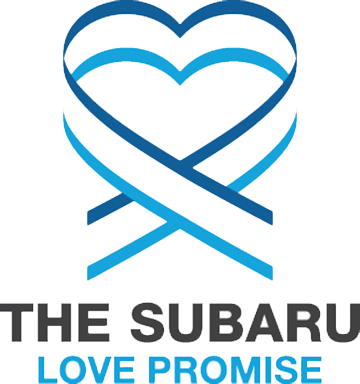 What is the Subaru Love Promise?
Subaru and our retailers believe in making the world a better place and the Subaru Love Promise is our vision of respecting all people. This is our commitment to show love and respect to our customers and to work to make a positive impact in the world.
How is Van Subaru dedicated locally to the Love Promise?
Our Love Promise can be seen in various partnerships with local charities and non-profits. We're grateful for the opportunity, not only to be a part of our community, but to serve it as well.
Love Promise Stories from Van Subaru
Subaru and Van Subaru believe in making a positive impact on the communities in which we live and work. We uphold that belief through our Love Promise Community Commitment. Every month, we select inspiring stories from customers and partners from around our area who strive to support our collective commitment and feature them here
Tales of an Underdog - 3rd Time's a Charm - Stephanie S
Valkyrie, a warrior's name for a dog who has faced a lot of adversity in her life. Valkyrie, a 4-year-old terrier, pit bull mix, came to Kansas City Pet Project for the first time in June 2021 through our Animal Services Division because of her first owner passing away. She had cherry eye (left eye) which is a large red bulging, inflamed tear gland that protrudes out of the corner of one eye, heartworms, and was terrified. Our incredible veterinary team at KC Pet Project examined her eye and determined that due to infection, it had to be removed. We immediately began her heartworm treatment and at no cost to her future adopter. At only 4 years old, she was facing some tough circumstances, but she remained spirited. Her cropped ears and one eye endeared her to everyone. Valkyrie quickly became a staff favorite and was adopted on July 14th after over a month at the shelter. Unfortunately, Valkyrie found herself back in our care on September 22nd. Her prior adopter decided the best thing to do for sweet Valkyrie was to return her to KC Pet Project when they couldn't afford care. While at the shelter, Valkyrie worked hard to get over her shy and fearful nature and spent a lot of time in our retail store with her very special friend Bria, our store manager. Bria had this to say about Valkyrie: "What I loved most about Valkyrie is that despite everything she had been through it was almost as if she knew what she was worth and what she deserved and she was willing to wait for it. Even with only one eye, her soulful looks seemed to say 'It's okay, I'll be patient.'" Valkyrie finally had her lucky day during our Subaru Loves Pets event with our incredible partner Van Subaru in Kanas City. She was adopted by an amazing family who provides so much support and love to this sweet girl. We are hopeful and confident that Valkyrie has found her permanent family and that for her, 3rd time's a charm!
---
Subaru Loves to Care Blanket Delivery - Amy M
On June 26, 2019 John Wickwire and Ricky Ward of Van Subaru delivered blankets and craft kits to Children's Mercy Hospital. They were joined by Carli Good, Executive Director of the Leukemia & Lymphoma Society and Drs. Erin Guest and Keith August, both pediatric oncologists at Children's Mercy Hospital. Blankets and craft kits will be delivered to patients undergoing treatment for cancer. We were able to share with Shelly Nicoll, Department of Philanthropy about Subaru's support nationally throughout the Subaru Loves to Care program and Subaru CEO Tom Doll's commitment to raise more than $1M for LLS this summer through the Light the Night Walk. Shelly had shared that just prior to our visit today she had received news that a relative had just lost their battle to leukemia.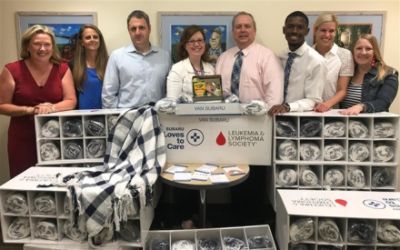 ---
Subaru Loves to Care & Leukemia & Lymphoma Society - Amy M
During the month of June, the Leukemia & Lymphoma Society, Mid-America Chapter is partnering with Van Subaru of Kansas City in the Subaru Loves to Care program. Subaru retailers across the country come together to provide blankets and messages of hope to patients undergoing cancer treatment at local hospitals and treatment centers. On June 25th local representatives from the Leukemia & Lymphoma Society and Van Subaru went to Children's Mercy Hospital and delivered 80 blankets and 25 craft kits. They were met by Erica Logan, Manager, Philanthropic Community Engagement and Events and Dr. Jaszianne Tolbert, MD, Pediatric Hematology & Oncology. The blankets and craft kits will be given to patients to provide much needed hope, love and warmth to those fighting cancer and their families.
---
LLS & Subaru Loves To Care - Danielle S
In June 2016, just one week after Finley's fifth birthday, her mom took her to the doctor's office to check what she thought was a bad case of strep throat and a high fever. Finley was sent to the hospital to undergo further testing. Shortly after, she was diagnosed with non-Hodgkin lymphoma. One year later, Finley is still in remission and is able to take her medication at home and visits the hospital once a month for maintenance checkups. This year, Finley is the National face of the Subaru Loves To Care partnership with LLS. On July 19th, Finley and her parents, along with LLS staff members, dropped off 70 blankets with Van Subaru representatives, Chandler Nelson and Anthony Boone, at Children's Mercy Hospital in Kansas City, MO. Trista Williams, from the Child Life department at Children's Mercy, explained why these blankets are so important to their patients "A lot of patients are coming from hours away. They come here in an emergency situation. Maybe they don't have things from home. So to get something soft and warm and fuzzy to snuggle up with and call their own, a lot of times it ends up being a security blanket for them." We cannot thank Subaru enough for helping LLS provide more warmth and comfort to children in Kansas City. Also, a sincere "Thank You" to Finley for sharing her story and being a real life superhero.
---