Kansas City Subaru Dealer Researches the New Forester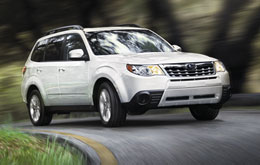 To begin reading Van Subaru's 2013 Forester review, scroll down below the video. Where do we get these Forester reviews? From leading writers in their industry. As you read this article, you'll see that it is packed with practical facts on all of the things you'r looking for in the new Forester. As always, Van Subaru is available seven days a week to answer any questions you might have. Don't hesitate to call and speak with a representative.
360 Degree Subaru Forester Video
Prominent Specs for the Subaru Forester
When comparing the 2013 Subaru Forester to the 2013 Hyundai Tucson, Chevrolet Equinox, Volkswagen Tiguan, GMC Terrain and the Ford Escape, and you'll discover that the Forester outperforms those autos in oodles aspects. Get a load of just a few of the reasons below.
2013 Subaru Forester Cargo Space: 30.8 cubic feet
2013 Subaru Forester Seats: 5 passengers
2013 Subaru Forester 0-60 MPH in 8.6 seconds
2013 Subaru Forester Body Style(s): SUV
2013 Subaru Forester Colors: Camellia Red Pearl, Sage Green Metallic, Deep Cherry Pearl, Ice Silver Metallic, Marine Blue Pearl, etc...
2013 Subaru Forester MSRP: $21,295
2013 Subaru Forester MPG: 21 city / 27 highway
Engine Specs for Kansas City Subaru Forester Buyers
Your Subaru Forester Comes With Built In Peace of Mind
Maintaining Your Investment - We're Here to Help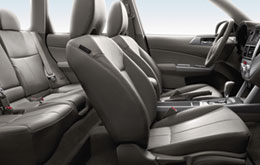 Van Subaru's car repair employees have served Kansas City for years with amazing workmanship and trustworthy Subaru parts. If you shrug off getting dependable repair work, your Subaru Forester's vitality might be impaired, so drive it to the esteemed mechanics at Van Subaru. The following is only a fraction of what we handle: tire alignment and checks, shock and strut repairs, battery replacement and much more. We also manage a variety of supplementary services. Above this, Van Subaru offers one of a kind customer service and economical prices. The link under this paragraph is your roadway to savings! Click now and you'll be linked to our coupon specials page!
You can contact our service center 24-7 using our online form