Van Subaru is fired up to be the premier location for the Subaru Tribeca in missouri. Van Subaru is a Kansas City Subaru dealership and carries a colossal inventory of Subaru Tribeca and top quality, high value used Subaru Tribecas and other cars & trucks.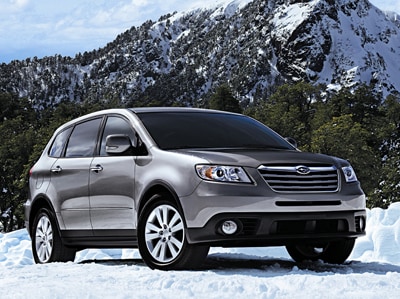 When consumers compare the Subaru Tribeca to other makes like the Toyota Venza, Volvo XC90, and Mazda CX-9 the 2012 Subaru Tribeca shines as the most fun-to-drive. Starting with the 2011 Subaru Tribeca, owners found this affordable SUV's crisp handling and lively acceleration to be reason enough to choose.
You'll fall for the Subaru Tribeca affordable SUV when you shop at Van Subaru in Kansas City
Subaru cars have a key element in common: Symmetrical All-Wheel Drive. The 2011 Subaru Tribeca is conveniently setup with this signature AWD system and notably high ground clearance, both of which make it perfect for adventurous off-roading and harsh weather conditions. Even if you don't live in a mountainous area or snowy region, the well-rounded 2011 Tribeca is still a great choice for Subaru car shoppers. It is a terrific pick for economical consumers with active lifestyles or for consumers who need a mammoth amount of cargo and passenger room. Our Kansas City Subaru dealership is home to many new and used Subaru cars and SUVS, including recent 2011 Tribeca Subaru models. We welcome you to come down and see the new 2011 Tribeca, along with many other vehicles from our large selection of inventory.
You are invited to our Kansas City Subaru dealership to test-drive the new 2011 Tribeca. You'll be impressed with the smooth car-like ride and tight handling of this sporty SUV. As mentioned earlier, the 2011 Subaru Tribeca comes standard with all-wheel drive. Subaru's distinguished Symmetrical AWD system enhances driving performance by improving traction in all types of weather conditions.
Many people don't know that Subaru actually introduced the all-wheel drive layout. It debuted in 1972, and today it has become an international standard for many compact and midsize vehicles. Come down to Van Subaru in Kansas City and check out the new 2011 Subaru Tribeca, as well as numerous other quality Subaru cars and SUVs.
Standard Subaru safety features included in the Tribeca are: traction control, anti-lock brakes, side airbags, driver airbags, side-impact bars, seat-belt pre-tensioners, and passenger airbags. With all of these features, the Subaru Tribeca is always outstandingly rated by the IIHS and NHTSA.
The Tribeca also has an abundance of comfort and convenience features including: power steering, remote locks, power windows, power mirrors, climate control, cruise control, air conditioning, power seats, an adjustable steering wheel, and more! Especially convenient are the available hands-free phone and navigation systems. Test drive the Subaru Tribeca in Kansas City at Van Subaru.
The Subaru manufacturer's warranty covers the Tribeca for manufacturing defects and has a 3 Years / 36,000 miles Subaru warranty. Subaru has worked for years to minimize its environmental impact, and the Tribeca's carbon footprint is rated very low. Not surprisingly, with all of these Tribeca advantages, this great Subaru SUV retains a high percentage of its value at 3 years and 36,000 miles, which makes the Subaru Tribeca a great used buy!
When seeking a safe, economical, sporty and stylish SUV, Kansas City consumers should head to the Subaru dealer of choice, Van Subaru at 95 Design Dr in Kansas City MO.
Subaru Tribeca service information for Kansas City
Subaru Tribeca owners and lessees in Kansas City have found that Van Subaru at 95 Design Dr in Kansas City is the very best choice for Tribeca warranty work, regular maintenance & inspections, and mechanical repairs. At Van Subaru, Certified Subaru Technicians trained in the very latest diagnostic and corrective techniques work for only one thing - your complete satisfaction. Whether it's time for your Subaru to have an oil change or tire rotation, or if you need regular Tribeca Scheduled Maintenance, Van Subaru is your first choice. Wheel alignments are another specialty of our Certified Subaru Techs, and here at 95 Design Dr, we are the smartest choice in Kansas City for quick, courteous, and professional Subaru Service of all kinds.
If you'd like to make an appointment to have your Tribeca serviced, click the link or just give us a call. See you soon.